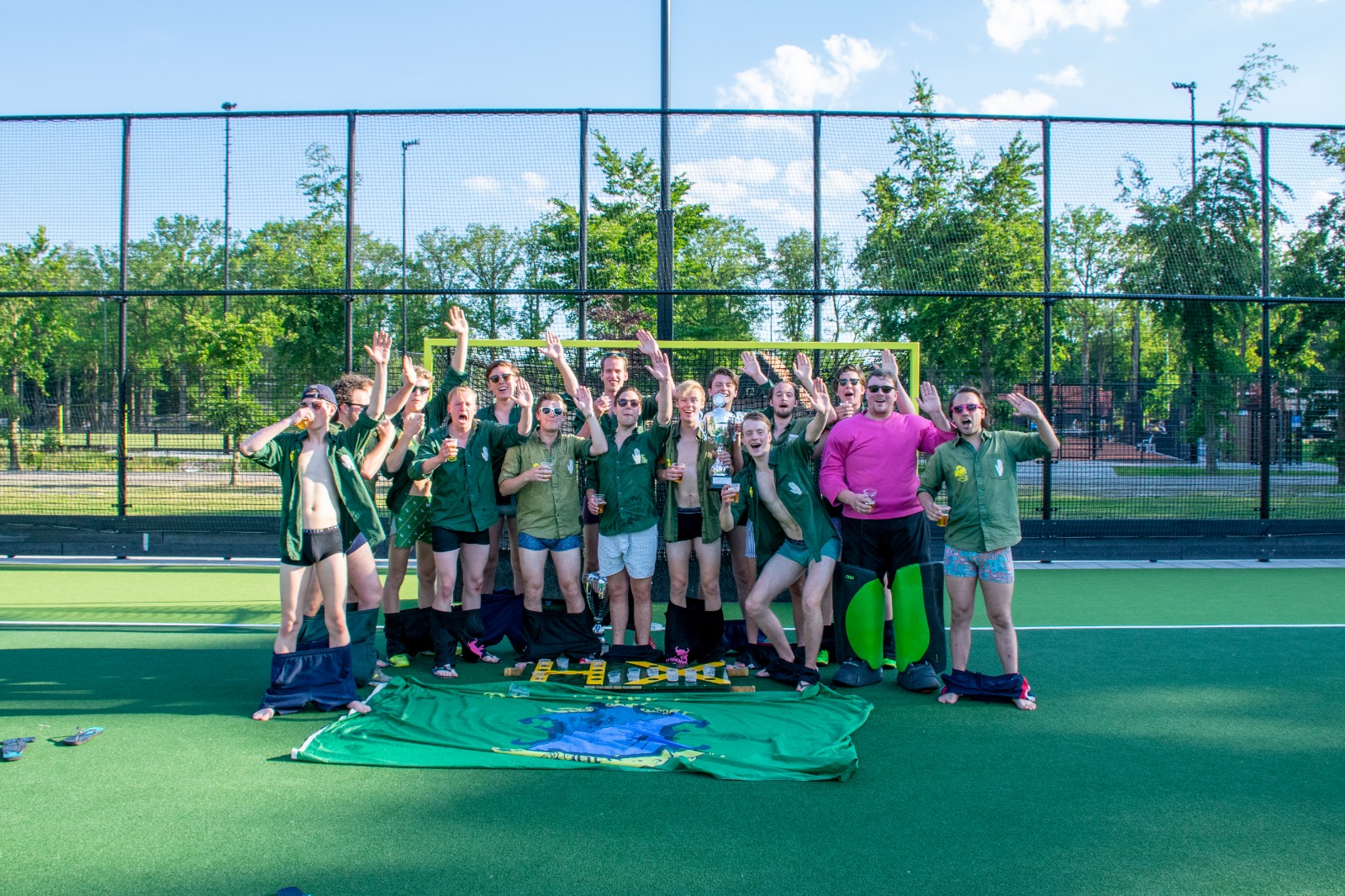 Who are we?
'Heren X', also called 'Ad Höckey Klap', was created on the 14th of May 1989 with a merge of the already existing pub "disputen" of Audentis Ad Hoc and Hoken. Han Gooinga, who still takes care of our training to this day, founded it at that time. Han is considered a legend and is ready every week with a new joke which is not quite acceptable.
The logo of 'Heren X' contains the Centaur of Chiron and the unicorn of Drienerlo. This logo shows the merge of the former Chiron and DHC. What is also very striking about 'Ad Höckey Klap' is the 'Klap!' or 'Klappâh' which is shown with a left high-five on the chest. This 'Klap' originates from the television series Allo Allo, which you might not know and refers to the character of 'General von Flockenstuffen'. The hand on the chest is a trademark of the striking hockey uniform, also known as the 'Klaphemd'. At the start of your Klap-career, you drink your soul in this shirt and it should never be washed.
The weekly schedule of 'Heren X' is as follows; there are three training sessions each week, one on Wednesday evening, Friday is the optional training, on Saturday the practice is in ''t Gat'. If you trained on Saturday, it means you will have a starting place during the game on Sunday, which is followed by a Sunday afternoon training also known as the third half.
Finally, it is essential to know the functions within the team. The 'Klapkoning' is the team captain. 'Heren X' is a democracy unless the 'Klapkoning' decides otherwise. Furthermore, we have a Klapcessor'. This person is in charge of the money and is the left hand of the 'Klapkoning' and the 'Aftelkoning'. The 'Aftelkoning' is the person present with the highest 'Klapciënniteit'.